---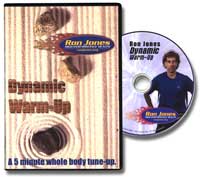 Tune Up Your Bod with my RJ Dynamic Warm-Up!
History: I made this exercise library out of necessity because I was not satisfied with current exercise directions on the web to share with my friends and clients. What I usually found was either too generic to be of any real-world value, too incomplete to properly instruct, or the exercise directions were not what I wanted my people to use. My library is free of fee! While my views have changed and evolved over the years, I don't put anything bogus in my exercise library. Looking back, some of the exercises I don't really use anymore, but I know plenty of people that like these former approaches, and they work fine for them. To each their own--JUST MOVE!
There is something here for every "body" whether young or old, athletic or beginner to exercise. Move well fitness friends!


Photos & Exercise Directions: The following exercises are for core, strength, speed development, and the balance of joint stability and mobility. Many are "body weight" exercises you can do at home with NO equipment. Some require simple equipment you can buy or even make yourself--so NO EXCUSES!


I recommend PerformBetter High-Quality Fitness Equipment!
Directions: Perform my Dynamic Warm-Up exercises
at "beginning" of workout for maximum benefit and improvement.
Pick a safe level; never be unsafe or exceed your capacity to "control" your body!

PowerPoint Presentation NEW!
I don't normally post PPTs because these are specialized presentations I do for groups by arrangement; however, I have posted an Obesity Update below for all to see. Feel free to use my PPT with the current data updates from the CDC and others to promote obesity PREVENTION!

Obesity Update Presentation

(CDC Obesity Trends & Data Updates)

New Stuff! (Most Recent Towards Top)

Ron Jones BodyXercise Sections: (Photos & Exercise Directions)

Exercise Lists by Category: (Organizers only-No or minimal directions)

Related Information:
Explanation Key: Occasionally I use symbols and a few technical terms to save space as noted below.

| | |
| --- | --- |
| Symbol | Meaning |
| á | Increase |
| â | Decrease |
| > | More than or "next" |
| ³ | More than or equal to |
| £ | Less than or equal to |
| » | Equivalent to or approximate |
| = | Equal to |
| ° | Degrees |
| Supine | Face up |
| Prone | Face down |

Body Weight Exercise Archive Page! (If you can't find your old links, look here!)
*Note: These exercises are intended for "normal healthy" individuals and many are only intended for competitive athletes.
If you have an injury, or abnormal pain is present, see your physician or a medical professional before continuing your exercises.
RonJones.Org | Back to Coach&Train | Site Map
(Updated 2.13.12)..