Kettlebells-HARD Style!
"Tyazholaya Atletika"
---
Directions: Perform my Dynamic Warm-Up exercises at "beginning" of workout
for maximum benefit and improvement.
Pick a safe level; never be unsafe or exceed your capacity to "control" your body!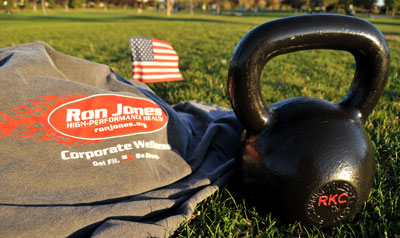 Heavy Metal Strength...as it should be.
Comments: Like a lot of pros in my business, I too have been "re-educated" by the simple yet effective Russian Kettlebell (KB). It is an amazing tool. When respected and used properly, it is also a highly effective and safe tool that will move you better. KB strength is built on a foundation of stability. Less efficient strength training builds strength but beyond what can be stabilized i.e. strength that is not controlled. If you want to build strength based on stability and control, properly use a kettlebell. KBs are alive vs. many traditional lifts which seem "dead" compared to the highly active KB dynamic swing patterns. For more details, check out my handouts and recommendations below.
Kettlebells are the real deal, but as usual, people are misusing them like other types of exercise equipment. There is only ONE way to use a kettlebell--the RIGHT way with ultimate respect! No matter what you do with them, come back to the basic foundational movements and safety then you'll be fine. I'm using them safely and effectively with my corporate clients--so can you. Move well Comrades...and feel the Whole Body POWER of Kettlebells!

Handouts by RJ:
KB Info Webpages by RJ:
Auto Safety & Transporting KBs
KB Gear Bag Tips
KB Workshops by RJ & Candas:
KB 201: Kettlebell Progressions
KB 301: Applied Kettlebell Protocols
KB TGU: Turkish Get Up
Equipment: What's the difference? Official RKC KBs from DragonDoor have thicker handles. If you plan to get RKC certified, you need to get used to their brand of KBs. PerformBetter KBs are fine for general use and less expensive. Another nice alternative if you want the thicker handles for a better price is to go through LifeLineUSA.
Buy Kettlebells (LifeLineUSA)

BEST VALUE & Made in USA!

This is your best choice for value and good quality. LifeLine is a great alternative if you want a budget-minded KB with the large diameter handles for less money. The LifeLine paint is more mat and a little less quality than DragonDoor, but not a big deal. We ordered about 50 of the LifeLine KBs for our college football team, and they worked out great.

Buy Kettlebells (PerformBetter Item #3820)
GymBoss Interval Timer (PerformBetter)
Kilograms to Pounds Conversion Table-Common Sizes:
| | |
| --- | --- |
| KG | LB |
| 4 | 9 |
| 5 | 10 |
| 6 | 14 |
| 8 | 18 |
| 12 | 26 |
| 16 | 35 |
| 24 | 53 |
| 32 | 70 |
Basic KB Exercises & Photos: *(Pending)
Box Squat
Face-the-Wall Squat
Deadlift
Goblet Squat
Swing
Clean
Turkish Get Up
High Pull
Snatch!
Extras:
RonJones.Org | Back to BodyXercise Library | Site Map
(Updated 5.1.12)