MRSA Staph Bacteria Superbugs
---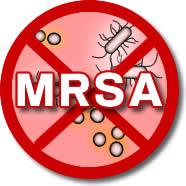 There's a new bug in town—and not a good one. The antibiotic-resistant staph infection called MRSA has been increasing exponentially the last few years. While many times able to be treated on an outpatient basis, worst-case MRSA infections can eat you alive and even take your life…protect yourself and others at work, at home, and at the gym as much as possible with this valuable information!
Personal Note: When I started MRSA education in 2004, no one in my business I talked to had heard about it. When I tried to tell people about MRSA, they thought I was being somewhat odd. Now when I do corporate and sport team presentations on MRSA, there is always someone in the audience that has known someone else personally that got MRSA. It appears that many schools and sport teams do NOT want to talk about MRSA for fear of creating a panic with parents. My opinion is exactly the opposite. If you do not want panic, educate parents so their children do not lose a limb or their life! If you want panic, leave the parents in the dark without the proper education and defenses to fight MRSA infections. National experts say the same about MRSA--the two primary strategies are: 1. Education and 2. Hand Washing. Not talking about MRSA is NOT the solution.
A lot has changed in just a few years. I've been contacted recently by both the Dr. Phil Show and the Rachel Ray Show regarding MRSA...the word is getting around about this serious health issue. Please use the info below to get the word out even more--the word is PREVENTION!
MRSA Superbugs Handout (Updated 1.18.08)

"I went from being in tiptop shape, to a few hours later, being knocked on my butt and having surgery
...it happened just like that."
--Bill Russell, NFL Cleveland Browns Safety
"I was in the most pain that I have ever felt in my life."
--Drew Gooden, NBA Cleveland Cavaliers Forward
MRSA References & Related Reading:
MRSA Media Updates:
MRSA Support & Resources:
Photos: WARNING-GRAPHIC IMAGES! These images have been borrowed off the web for educational purposes. If you do a google search on "MRSA images", you'll find the original sources.
MRSA First Aid Wound Care: This product is specifically designed for wounds rather than superficial hand sanitization.
Antibacterial Sanitizing Products: *(Keep alcohol products away from children!)
RonJones.Org | Back to Weblinks | Site Map
(Updated 2.15.09)