CORE: "Prone 2-Point Dynamic Bridge"
---
Directions: Perform Dynamic Warm-Up exercises at "beginning" of workout
for maximum benefit and improvement.
Pick a safe level; never be unsafe or exceed your capacity to "control" your body!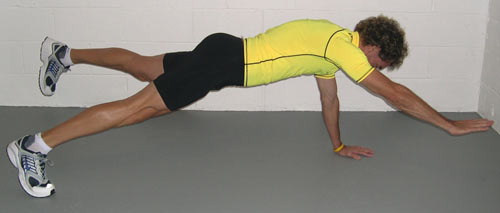 Start with all four points of contact on ground with feet split wide.

Carefully lift one hand or foot; stabilize; then lift opposing limb.

Stabilize in the 2-Point position then return and lift other two limbs one at a time as described above.

Tips: This is very similar to the 3-Point Bridge but more difficult. The less points of contact, the less base of support you have for stability. If you can't control the 2-Point Bridge, perform the 3-Point Bridge or a different "more stabile" exercise that is less difficult until you master the lower level. Be advised that you might feel "wobbly" as you come into the 2-Point stance--just use your core strength to stabilize and control the movement.
I don't recall seeing anyone else do these except me and those that I train. I made them for my collegiate football conditioning program. Remember that it's all about quality and control with bridging. If you force your way into an advanced bridge, but are out of control, then you are blowing the objective which is to efficiently control and stabilize movement. Exceeding your capacity with an advanced bridge like above also puts you at risk for injury--not good! Again, careful progressions will get you there safely. Be patient--it's worth the effort.
*Note: This exercise is intended for "normal healthy" individuals. If you have an injury, or abnormal pain is present,
see your physician or a certified physical therapist before continuing your exercises.
RonJones.Org | Back to BodyXercise Library | Site Map
(Updated 3.7.08)