CORE: "3-Point Dynamic Bridge"
---
Directions: Perform Dynamic Warm-Up exercises at "beginning" of workout
for maximum benefit and improvement.
Pick a safe level; never be unsafe or exceed your capacity to "control" your body!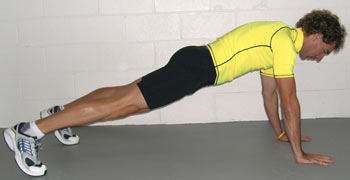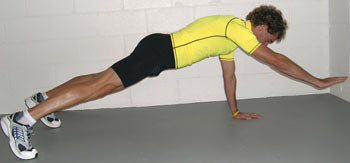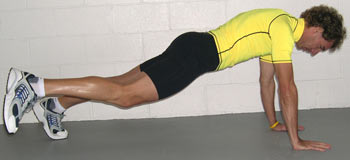 Start with all points of contact down as with Military push up position.

Slowly lift one hand; stabilize; then return hand to ground.

Slowly lift one foot; stabilize; then return foot to ground.

Vary the order of lifts. For example, lift one arm then the other before going to legs or lift one arm then opposing leg, etc.

Tips: As you lift one hand slightly "shift" over the other shoulder and down hand. Perform slowly with both arms and legs so you get the "stabilization" challenge and benefit.
For the upper body this is great for loading one shoulder and increasing stability. For the lower body you get a transverse challenge in the core area plus good stability work on the loaded hip. You can hold longer if desired, but at least stabilize for a few seconds before coming back down. Don't start with the full lift or extension--just try barely lifting some pressure off one limb at a time. Eventually you can work up to totally lifting then finally holding the lift for a few seconds.
*Note: This exercise is intended for "normal healthy" individuals. If you have an injury, or abnormal pain is present,
see your physician or a certified physical therapist before continuing your exercises.
RonJones.Org | Back to BodyXercise Library | Site Map
(Updated 3.7.08)