Mobility: "Lateral Reach"
---
Directions: Perform my Dynamic Warm-Up exercises at "beginning" of workout for maximum benefit and improvement.
Pick a safe level; never be unsafe or exceed your capacity to "control" your body!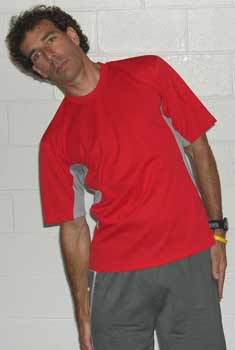 Stay in your "midline" as you reach laterally to each side.
OBJECTIVE: Open up low & mid-back.
Stand upright and "tall" with good posture.

Place arms at sides with palms facing in towards thighs.

Without slouching forward, bend spine laterally, or "straight over" to one side and reach hand down leg towards knee and lower leg. Make sure you don't bend knees to compensate for tight back.

Stand back upright then alternate to opposite direction.

Perform 5-10 reps per side.

Tips: Make sure you don't bend "forward" as you reach to the side. People are used to bending and slouching forward but not bending sideways--this one is to restore mobility in "lateral" flexion only.
People jack this one up big time! Do NOT slouch, collapse, round, or bend knees! Pretend there is a wall in front of your face preventing you from rounding forward--the only way you can go is straight off to one side.

Mobility Exercises (Directions)
Mobility Exercises (Organizer List Only)
*Note: This exercise is intended for "normal healthy" individuals. If you have an injury, or abnormal pain is present,
see your physician or a certified physical therapist before continuing your exercises.
RonJones.Org | Back to BodyXercise Library | Site Map
(Updated 12.1.07)