Mobility: "Heisman"
---
Directions: Perform my Dynamic Warm-Up exercises at "beginning" of workout for maximum benefit and improvement.
Pick a safe level; never be unsafe or exceed your capacity to "control" your body!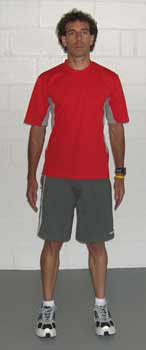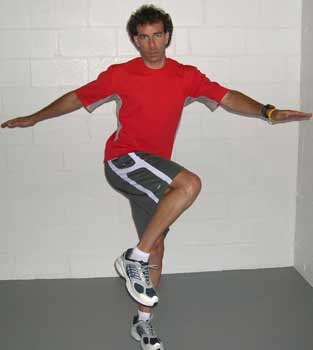 Pull knee "up, across, & diagonally."
OBJECTIVE: Open hips & spinal column.
Stand upright with feet shoulder-width apart.

Quickly pull knee up and across front of body towards opposing hand as you keep torso pointed straight forward.

Repeat all reps on one side then alternate.

Perform 5-10 reps on each side.

Tips: A good exercise to start opening the hips. Just about everyone can do some level of this exercise. It's also a great dynamic warm-up before an activity like tennis, basketball, or any sport that involves a lot of cutting and running.
This is a good modification for those that have too tight of hips to perform the Dynamic Warm-Up Drop Lunge properly. If you have balance problems, you can hold onto a wall or pole as you pull knee across chest still getting most of the benefit out of this movement.

I learned this one from functional training guru Mark Verstegen of Athlete's Performance. For more info on Verstegen and his work, go to: www.athletesperformance.com.

Mobility Exercises (Directions)
Mobility Exercises (Organizer List Only)
*Note: This exercise is intended for "normal healthy" individuals. If you have an injury, or abnormal pain is present,
see your physician or a certified physical therapist before continuing your exercises.
RonJones.Org | Back to BodyXercise Library | Site Map
(Updated 12.10.07)