Norm Hoffman Bio
(1940-2001)
---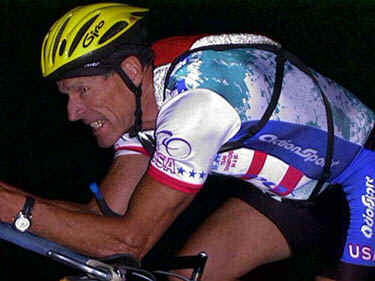 At age 59, Norm was still one of the fastest on the course.
Photo taken in 1999 Furnace Creek 508
Action Sports/Snider's Cycling Men's Team
Photo Courtesy of Chris Kostman/Adventure CORPS ©


I still ride. Norm's spirit still rides in me and a few others--always will; however, I never get on my bike today without wondering if it will be my last. I'm edgy about riding now--and not in a good way. I have raced following Norm's death--competing hard like Norm taught me to do. I can still go hard, but it's just not fun anymore. Now my twins are riding bikes. Somehow I'm trying to find the chi for them so they can have fun with their bikes and Daddy. It's hard. My son is named after cycling and Norm Hoffman. Bikes are a huge part of me--sometimes a very sad part of me now.
Don't forget to Share the Road with bicyclists--the people riding might be me and my family carrying Norm's spirit forward. God Speed Norm...
Still your best friend,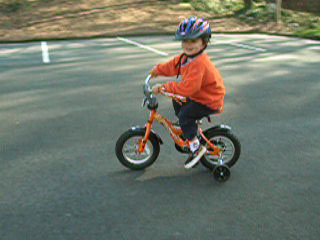 Cade "Norman" Jones
On March 14th of 2001, Norm Hoffman was killed while riding his bicycle on Fairfax Road in Bakersfield. Norm was training for the US Masters National Cycling Championships. He was killed by a "inattentive" driver. Norm was riding as far to the right as possible and wearing his helmet; however, he was killed at the point of impact.
This is a "condensed" version of Norm Hoffman's Bio & Resume'. Obviously, Norm's accomplishments were impressive. He was involved in so many areas of health and fitness. Norm inspired literally thousands of people to live healthier lifestyles and to compete athletically at the highest level. Who did Norm admire? We had many conversations about Jack LaLanne over the years--the true pioneer of American fitness. Norm was also personal friends and very impressed with fellow Oregonian and USA Track & X-Country legend Steve Prefontaine. Norm told me how devastated he was when "Pre" was tragically killed in a auto crash...now we know how he felt...
Occupation: Health Professor at Bakersfield College
At BC, Norm also served as track coach, strength and conditioning coach, ski and cycling club advisor, member of the administrative selection committee, developed staff nutritional workshops, and was a PE/Health Department nutritional counselor for their PE & Health Education Department.
Education: Oregon State University
BS Science Education, 1963
BS Physical Education, 1963
MEd. Health/Psychology, 1964
Other Professional Experience:
Bakersfield Counseling Service (Owner)
Vitamin Research Products (Consultant)
IDEA Fitness Conference (Presenter)
Legal Expert Witness (Bicycle-Related Issues)
American Cancer Society (Board of Directors)
Project Clean Air (Speaker/Promoter)
Seminars, Lectures, & Clinics (health, fitness, nutrition, environment, metabolism, weight control, supplements, writing, psychology, cycling, and motivation)
USCF Development Clinics (Presenter)
USCF/Bicycling Magazine Seminars (Presenter)
Phase 1 Fitness (Consultant)
Ken Ruettgers/Green Bay Packers (Consultant)
Kathy Long/World Kick Box Champion/Stunt Woman (Consultant)
Walter Payton/NFL Record Holder (Consultant)
Organizations Served:
American Lung Association
Bakersfield Family Medical Center
Glinn & Giordano Physical Therapy
United States Cycling Federation/USCF
Central California Cycling Association
Kern County Triathlon Association
Bakersfield Police Department
Chain, Younger Law Firm
The Bakersfield Californian
Classic Style Talent Agency
Kern Wheelmen Bicycle Club
Southern Sierra Cyclists
Bakersfield Rotary Club
South Bakersfield Rotary Club
Shell Oil Company
Publications:
A New World of Health (McGraw-Hill Book)
Muscle Digest (articles)
Sports Calendar Magazine (column, features, consultant, advisory committee)
TAX Trainers & Rollers (training manual)
Veltec-Boyer Imports
The Bakersfield Californian (columns, features, consultant)
The Kern Wheelmen Bicycle Club (newsletter editor/publisher)
Exercise, Fitness, & Health
Nutrition for Life & Health
Vitamin Research Products Newsletter
Benjamin Cummings Publishing Co. Newsletters (articles, features)
Mosby Publishing Co. (book review)
W.C. Brown Publishing Co. (book reviews)
Wadsworth Publishing Co. (book reviews)
Scholastic Honors & Achievements:
Phi Kappa Phi (National Scholastic Honorary)
Sigma Delta Psi (National Athletic Honorary)
Sigma Alpha Epsilon (National Fraternity)
Outstanding Scholar Athlete Award (Oregon State University)
President Varsity "O" Lettermen Club (Oregon State University)
Silver Wings Award Outstanding Cadet (Air Force ROTC)
Samuel W. McCall Outstanding Professor Award (Bakersfield College)

Athletic Honors & Achievements: (General)
Bakersfield College Track & Field Hall of Fame
Bob Elias Sports Hall of Fame
Bakersfield Sports Council Athletic Recognition
"What a Night for Sports" Honor Banquet (Cycling Representative)
Mr. Kern County Body Building Champion
Athletic Honors & Achievements: (Track)
NCAA Track Champion 880 Yard Run (Oregon State University, 1963)
NCAA All American (1963)
AAU All-American (1963-1964)
World Record 2-Mile Relay (Oregon State University, 1963)
Picked as 1964 Olympic Medallist by Track & Field Magazine
AAU National Track & Field Official
Most Inspirational Award (Oregon State University Track, 1963)
Outstanding Athlete & Oregon State Beaver (1966)
Oregon State University School Records in Mile & 880 Yard Runs
Outstanding Intercollegiate Cross Country Champion (Oregon State University)
United States Cycling Federation/USCF District Championships:
District 03 Time Trial (1986)
District 03 Time Trial (1987)
District 03 Road Race (1986)
District 03 Road Race (1987)
District 02 Time Trial (1989-1st for all categories)
District 02 Time Trial (1990-1st for all categories)
District 02 Time Trial (1991-1st for all categories)
District 02 Time Trial (1992)
District 02 Road Race (1989)
District 02 Road Race (1990)

USCF State Championship:
California/Nevada 40K Time Trial (1995)
USCF National Championships:
Masters 40K Time Trial (1986, 1987, 1990, 1991)
Fastest time in all age groups over 30 in 1987 at age 46 and was considered for US Olympic Team Time Trial Selection.

Age group 40K National Record five consecutive times in 1986-1987
USCF National & World Records:
40-45, 45-49 Age Groups 40K Time Trial (51:49.2, 1987)

50-54 Age Group 40K Time Trial (51:41.4, 1990)
Ultra Endurance Cycling:
Furnace Creek 508 Open Men's Team Course Record (1994)
Cycling Honors & Achievements: (General & Triathlon)
Kern Wheelmen Bicycle Club President (1988-1991)
Kern County Triathlon Series Champion
NOR 10 Mile Time Trial Course Record (21:41)
First Place Men's Triathlon Teams:
Bakersfield Bud Light Triathlon (1st Place Team: 1987, 1988, 1990)

Pedal & Plod Biathlon (1985-1987)

Vineman Ironman Triathlon (1998, fastest 112 mile bike overall at age 58!)
Norm Hoffman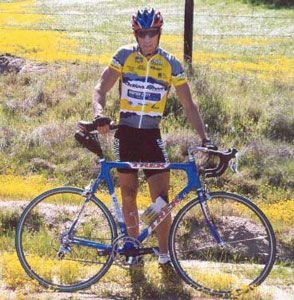 ...my teacher, coach, mentor, colleague,
tribal brother, and best friend...
Gone but NEVER Forgotten!
"The Spirit Still Rides"
Home | Share the Road | Site Map
(Updated 8.26.11)