WellPRO Ronnie Jones
---
Health is something to SHOUT about!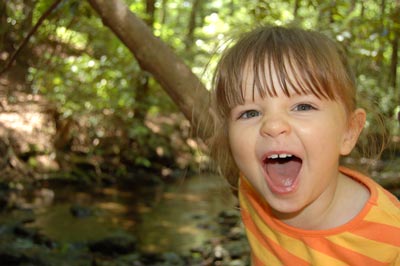 Ronnie Jones, Raven Cliff Falls Trail, North Georgia
Last year I was at the dinner table eating with my youngest daughter Ronnie when she blurted out, "Daddy! Eating fruit makes your poo poo soft!" What a profound statement I thought in its complete simplicity. She was only three years old at the time, yet had already made the connection between healthy eating and proper bowel function. Considering that many Americans don't take a crap for 3-5 days, maybe they should listen to Ronnie! It got me thinking though...all my talking up health and fitness around the house was finally paying off as a parent. Sometimes you wonder what your kids actually pay attention to during your rants and raves and pep talks. I don't think we give our kids enough credit to figure out health. They ARE capable of doing so much more than growing up to think that eating fast food is actually "real" food!
When I started my Health e-News!, I wanted to profile people in America that are starting in their journeys to inspire others to be well. As one of the youngest generation members at age four, Ronnie's story is worth reading. Too bad her peers are not old enough to read the story because Ronnie's wisdom on health could save them a life of obesity and illness...this is her story...so far!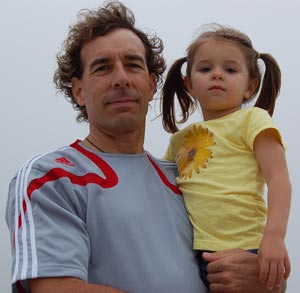 Ron & Ronnie, Stone Mountain Summit, GA
(Don't be fooled by the pretty shirt--she can tear you apart!)
"Ronnie Jones...a Health Journey of Fitness & Movement!"
by Ron Jones
Of all my WellPRO interviews, this one has definitely been my shortest--only five minutes! This is because it is impossible for Ronnie Jones to sit in one place any longer unless she's sleeping! When in the womb, we knew that Ronnie was going to be a fit and active child. Her little legs seemed to be constantly kicking and flailing about. Not much has changed. She is in perpetual movement. In fact, I have never known a person who related to life so much through movement. She simply loves to move--and move fast. Of course, this has been her family culture--to move and not sit, to eat well and not eat junk, to be healthy instead of being sick.
To begin, I posed the simple question to Ronnie--what does it mean to be "healthy?" She said, "To be strong with big muscles." She then proceeded to reach up with her arms demonstrating her movement capabilities. Remember, simple "talking" is never enough for Ronnie--she must personally demonstrate if at all possible with movement!
I asked her what foods she eats to be so healthy to which she replied, "Tomato soup, bean soup, monkey soup, oranges, apples, zucchini, broccoli, and bananas." I'll explain the "monkey soup" part in a minute. And yes, "eating sounds" were included in her comments.
When I asked her what exercises she does to be healthy, she replied, "Yoga (and immediately offered a demonstration of her now famous Ronnie Down Doggie single leg extensions!), stretching (hopefully her Dad's Dynamic Warm-Up but I'm not sure!), working out in the gym (quick functional circuit training demo!), and of course yet more "movement demonstrations" in real time for running FAST, hopping like a bunny on one foot, jumping HIGH, riding bikes FAST, and one of her favorites--hiking.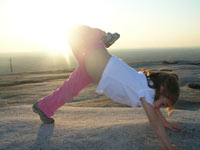 Ronnie Down Doggie @ Summit Sunset
At this point I assumed the interview was over as she approached her maximum threshold of five minutes because she quickly vanished leaving me behind like a cold potato! The End!
Coach/Daddy Comments:
Ronnie is a very interesting child compared to others. I have seen her push away junk food at parties so she could eat grapes. She eats broccoli like other kids eat candy. She comes home hungry from preschool some days because they don't always serve good enough food for her healthy tastes. Her and twin brother Cade will both stare down the strange donuts as foreign objects--definitely not "real food" in our family culture.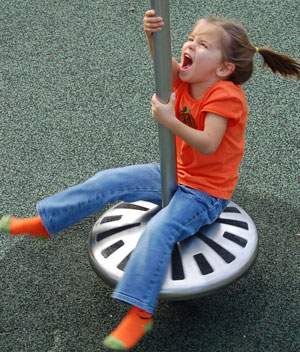 Ronnie in Motion @ Druid Hills-Atlanta
She literally sprints up the steepest parts of the Stone Mountain ascent trail outside of Atlanta while some grown adults barely manage to huff and puff and put one foot slowly in front of the other. At this point her and Cade are good for a two-hour trail ascent as long as you keep them hydrated with plenty of bananas. She has no fear when it comes to movement and activity. It seems her whole life revolves around moving somehow--and most often moving very FAST. She's got naturally explosive speed--so much that it's scary sometimes. Her athletic ability and natural flow in her body is amazing to me. She's an incredible rock climber and hiker. She already flows from rock point to rock point like a world-class climber.
I'm not sure where she is going with her movement and fitness, but she's going somewhere, and of course, somewhere FAST! And just think--this wonderful ability could have been wasted with junk food and sedentary behaviors. The thought of throwing away Ronnie's health and athletic talent for a Big Mac literally makes me sick. I'm so thankful we know better. I'll take Ronnie's ballistic behaviors any day over a couch zombie...remind me of this next time she jumps horizontally off the stairs or the playground equipment!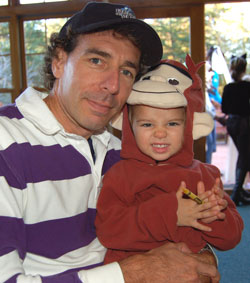 So What's Up with the Monkey?
Well, I didn't want to start the story with the monkey, but you cannot talk about Ronnie without talking about monkeys! When she and brother Cade were born, my Mom's friend at work Kendra bought them each a Curious George doll. For whatever the reason, Ronnie has adopted the monkey as part of her identity--at times more than we would like because like Curious George, she is into everything and all at the same time! But at least it motivates her to eat more healthy bananas.
So this is Ronnie's story and journey...so far. Stay tuned--more fast and fit movement to come!

"We must live our lives in such a way that our children, and their children after them,
will form a natural and lasting commitment to the vigorous life.
Only in this way can we be assured that the spirit and strength of America
will be constantly replenished."
- John F. Kennedy
U.S. Physical Fitness Program Dedication, 1963
*This article was the WellPRO feature for my March 2008 Coach RJ Health e-Newsletter.
RonJones.Org | Back to Current Comments | Site Map
(Updated 2.29.08)