Movement Prep #3:
"Calf Stretch"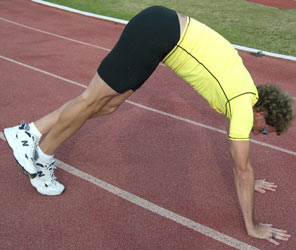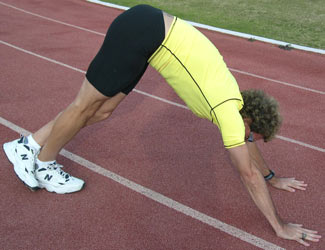 Hip hinge and walk hands out overhead.

Stand on one foot and loop other foot behind planted leg. Make sure down foot is pointed STRAIGHT FORWARD--do not angle foot to the side because this will decrease your stretch benefits!

Drop support foot's heel to ground firmly while keeping foot pointed straight forward.

Lift and repeat all reps on same side then switch feet.

Perform 6-10 reps on one side then switch and do other side.

Repeat reps then go to #4 Hand Walk warm-up exercise.

NOTE! This is #3 in a sequential series of 10 exercises. Perform as directed in exact order.

Tips: Do NOT round back or bend knees to compensate! Also make sure to actually touch your heel to the ground.
If you bend your knees just so you can get the heel to the ground you've just ruined the benefits of the exercise. By keeping your leg straight you put the calf and heel on stretch. If you bend the knee, you take the stretch off the heel and calf which is NOT the objective of this exercise. Do it right! Be "mindful" of what you are doing on this one so you don't get sloppy.

View List of All Movement Prep Exercises

Movement Prep Exercise Handout

Learn More About Mark Verstegen's Movement Prep Exercises
Book and DVD are highly recommended! See great photos, justifications, and video clips or exercise actions.
Note: This exercise is intended for "normal healthy" individuals. If you have an injury, or abnormal pain is present,
see your physician or a certified physical therapist before continuing your exercises.
RonJones.Org | Back to BodyXercise Library | Site Map
(Updated 8.17.06)