Mobility: "Leg Swing"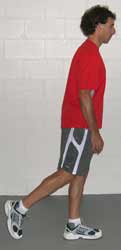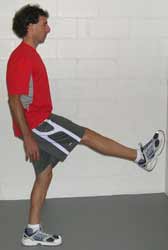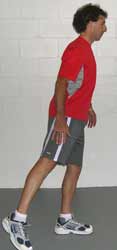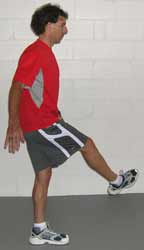 Straight up & back followed by front diagonal.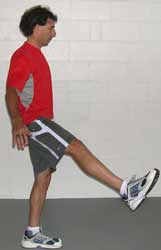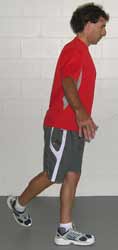 Side 90° followed by back diagonal.
OBJECTIVE: Open hips & improve hip stability.
Stand upright with feet close together.

Assume 1-leg balance stance then swing one leg up and back with knee and leg straight; repeat; change angle of swing.

Do all reps with one angle before changing positions i.e. straight up and back, front 45°, side 90°, back 45° then go to other leg.

Perform 3-5 reps for each angle on each leg.

Tips: A good exercise for easing into hip mobility and hip stability work. If you can't balance with the dynamic swinging, just hold onto a doorway or pole. You can also limit the range of motion and speed a bit to make it easier. For more challenging work, kick the leg higher and faster with greater range of motion.
This is a highly recommended exercise for increasing the stability of the hips which will then help minimize or eliminate knee problems, etc. It also makes a great dynamic warm-up exercise before running or hard leg workouts. If you have problems with the Drop Lunge in the Dynamic Warm-Ups, the Leg Swing would be a good substitute. The main problem I see with this one is that people don't have enough balance or hip stability to stay upright when they start dynamically swinging the leg--but just modify by holding onto something until you have enough capability to do it on one foot and leg.

Mobility Exercises (Directions)
Mobility Exercises (Organizer List Only)
*Note: This exercise is intended for "normal healthy" individuals. If you have an injury, or abnormal pain is present,
see your physician or a certified physical therapist before continuing your exercises.
RonJones.Org | Back to Exercise Photos | Site Map
(Updated 5-28-05)