Mobility: "Alternate Arm Raise"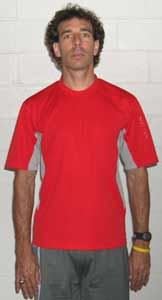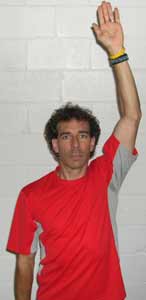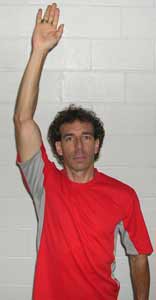 OBJECTIVE: Open front shoulders & lats.
Stand upright and straighten arm at elbow with palms next to outer thigh facing backwards.

From bottom position, lift one arm at a time straight forward directly over shoulder.

Alternate between right and left sides with each rep.

Perform 5-10 reps per side with no pausing.

Tips: Make sure you lift up "high" over shoulder to get the opening effect on anterior or front parts of shoulders. Go FULL ranges of motion.
Many older people or those with shoulder damage will struggle to lift completely over the top of shoulders. Don't force--but definitely push to open up the tightness in shoulders a little bit at a time.

This is one of my favorite "extras" before I do hard lifting.

Mobility Exercises (Directions)
Mobility Exercises (Organizer List Only)
*Note: This exercise is intended for "normal healthy" individuals. If you have an injury, or abnormal pain is present,
see your physician or a certified physical therapist before continuing your exercises.
RonJones.Org | Back to Exercise Photos | Site Map
(Updated 5-28-05)