"Ron Jones" Dynamic Warm-Up #4:
"Squat & Back Extension"
---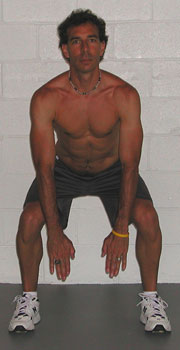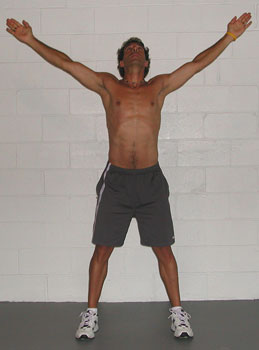 Ron Jones Dynamic Warm-Up DVD
OBJECTIVE: Increase hip, knee, ankle, & shoulder mobility.
Place feet shoulder-width and pointed straight forward.

Squat down keeping head and chest upright.

Keep heels flat on ground as you lower while keeping knees BEHIND toes then stand back upright.

As you stand, reach arms up high and out making a big "X" with body.

Repeat 10 reps then go to next #5 Balance Reach warm-up exercise.

NOTE! This is #4 in a sequential series of 10 exercises. Perform as directed in exact order.

*Advanced: Increase depth of squat, height of reach, & degree of back extension.

*Modifications/Substitutions: Decrease range of motion and tempo. It's better to do a 1/4 squat clean than a full squat that is bad and unsafe. In extreme cases, substitute the Chair Squat exercise and to prevent falling out of form--just add the reach movement as you finish.

*Design Points: Squatting is a fundamental human movement pattern needed for independent living--people need to squat! Most people cannot do a clean body weight squat which is even more reason for them to start now.

Tips: This is one of the most productive functional movements a person can do if done correctly. Make sure to keep feet flat, feet square and pointed forward, and legs/knees tracking straight forward over ankles as you go up and down. In reality, external rotation of femur (upper leg) in the hip is around 8-15°. I cue people to "stay square" because ultimately they will rotate out just slightly going through the reps. If we started with 15°, they'd probably be rotated "too far" by the end of the set; therefore, there is some behavioral psychology factored into these directions beyond the biomechanics.
While the most productive, this one is also easily jacked up with numerous compensations. Common problems I see are knees/legs caving in during squat, heels lifting, toes angling out, and poor extension work on top end with hand and arm reach. If you have tight hips, ankles, weak core, or any other movement issues--they will show up with this functional exercise. Don't get frustrated if you can't do it right--just keep doing it while being mindful of good form and you'll improve.

Don't think this one's important?! If you can't squat when you're old, you can't get on and off the toilet or wipe your own butt without someone helping you! Still laughing? A lot of seniors today are not--because they can't squat and stand. Do it now--so you can keep doing it later!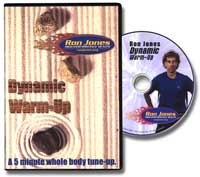 Get Your Warm-Up DVD & Move Better Now!
*Note: This exercise is intended for "normal healthy" individuals. If you have an injury, or abnormal pain is present,
see your physician or a certified physical therapist before continuing your exercises.
RonJones.Org | Back to BodyXercise Library | Site Map
(Updated 1.13.08)